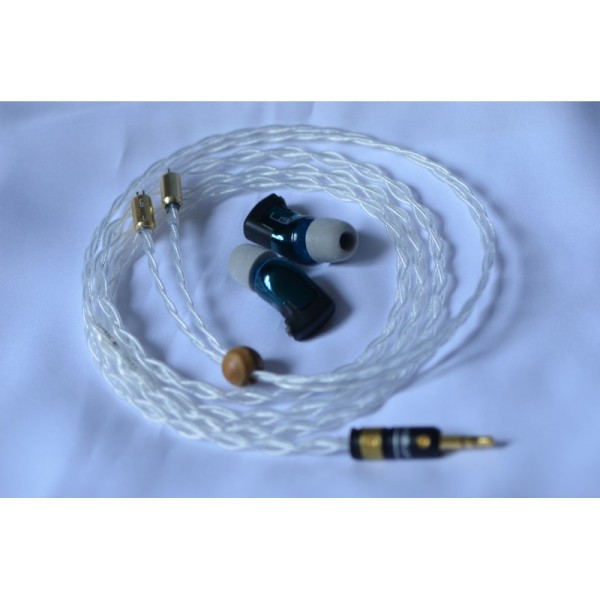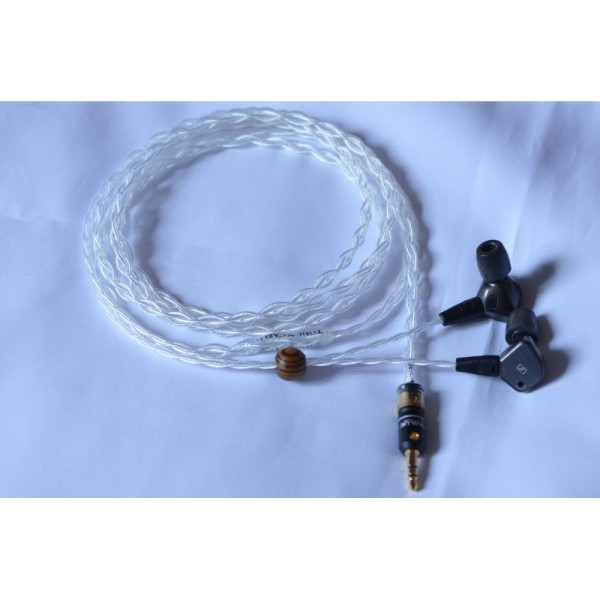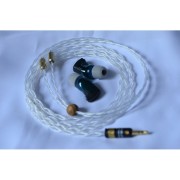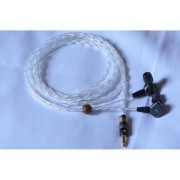 Toxic Cables Viper Earphone cable (SPC)
Product Description
Toxic Cables "Viper" one of the best cables on the market today.
Earphone cables are supplied at 4 feet as standard and are fully customizable.
Please have a look at our near 600 page Appreciation thread and see what our cables have to say about our cables and the cable you are purchasing
http://www.head-fi.org/t/609155/toxic-cables-impressions-and-discussion-thread

These cables are made from ultra fine, high strand count, silver plated OCC copper. The base metal used is UPOCC. Being almost free of impurity (99.99998% pure copper which is then silver plated SPC = silver plated copper) this gives the cable ideal electrical resistance properties with almost no crystal boundaries. This allows the cable to transmit electrical signals faster and with less distortion than ordinary OFC and silver wires. These features make the pure OCC copper the state of the art conductor for the audiophile cable industry.
You will not find a better built SPC cable at any price. I pride myself on the quality craftsmanship of my cables and all of the cables are given the same attention to detail.
All cables are hand made in the UK after receiving your order.
This price point was chosen as the right niche in the market to allow both audiophile and average consumer access to aftermarket cables. I started this business from a development of my personal audio interest. Having used the majority of the aftermarket cables available I have found my cables more than fit the bill.
I am offering high quality custom cable and a quick turn around. With every confidence that the cables will sell themselves as the cable just sounds amazing.
This cable comes terminated with a 3.5mm high quality Viablue jack. Please see below for other termination options.
Every cable that we sell here at Toxic Cables are hand build with pride, here in the UK.
All cables come with a standard 1 Year warranty against manufacturing faults, please note the the warranty does not cover user wear and tear.
Well you must be thinking to yourself, "get on with it and tell us how this cable sounds" and all I can say is AMAZING, you need to hear and see this cable yourself to see just how good it really is.
You will not be disappointed.
Here at Toxic Cables we pride ourselves on quality and innovation.
Toxic Cables has been leading the way in new design and innovation in headphone cables since it was founded in 2011. The very first cable we released was the big brother to this cable, the Silver Poison which was an OCC Cryo Silver/Gold stranded wire, the very first in the industry.
Within months of founding Toxic Cables, we had a huge line up of cables available to our customers, with over 8 cables to choose from at the time, our customers had every type of cable they could want under one roof, compared to our competitors 2/3 offering.
Soon we followed on with more firsts to the industry, including our true hybrid Virus and our Silver Litz "Silver Widow" cables and now the multi sized strand Hydra line up.
We won't tell you how good our cables are or how good they sound as we have always believed that we should let our cables speak for themselves and if you click on the link above and read the reviews from our customers, i am sure you will find that they do exactly that.
No fancy words, no hard selling, just honest reviews from first hand users.